Cork City has a long history of flooding. It has been estimated that the damages caused in the 2009 river flood and 2014 flood amounted to €90m and €40m respectively. 
The OPW, in conjunction with Cork City and County Councils, are now advancing the Lower Lee (Cork City) Flood Relief Scheme. The scheme will run from Inniscarra Dam to the City Centre, protecting over 2,100 properties, including 900 homes and 1,200 businesses, against tidal and river flooding. 
The scheme will enhance connectivity to the river by providing almost 1km of new river walkways and invest €20m in the repair of historic quay walls. Over 390 Protected Structures will be protected by the scheme and improved public realm spaces will be developed across the city, for examples in Morrison's Island. 
This integrated and holistic scheme will substantially free the people of Cork from the worry and stress of living with flood risk. It will also remove barriers to future private investment and help to reinvigorate the city centre. The OPW has engaged extensively with stakeholders, including the public, on this project. 
In line with international best practice, the standard of protection provided by the scheme is the 1 in 100-year flood from the River Lee and the 1 in 200-year flood from the tide. The scheme is also adaptable to provide greater protection in the future in response to climate change.
This is the largest flood relief investment project ever proposed in Ireland, representing over €140m investment for Cork City. 
The OPW scheme encompasses:
Flood defences along the River Lee downstream of Inniscarra dam and through Cork city
Changes to the operating procedures for the Carrigadrohid and Inniscarra reservoirs for the purposes of flood risk management, as may be facilitated by the above flood defences
A flood forecasting system to help guide decision-making on dam discharges and, if necessary, the erection of temporary / demountable defences downstream and in Cork City.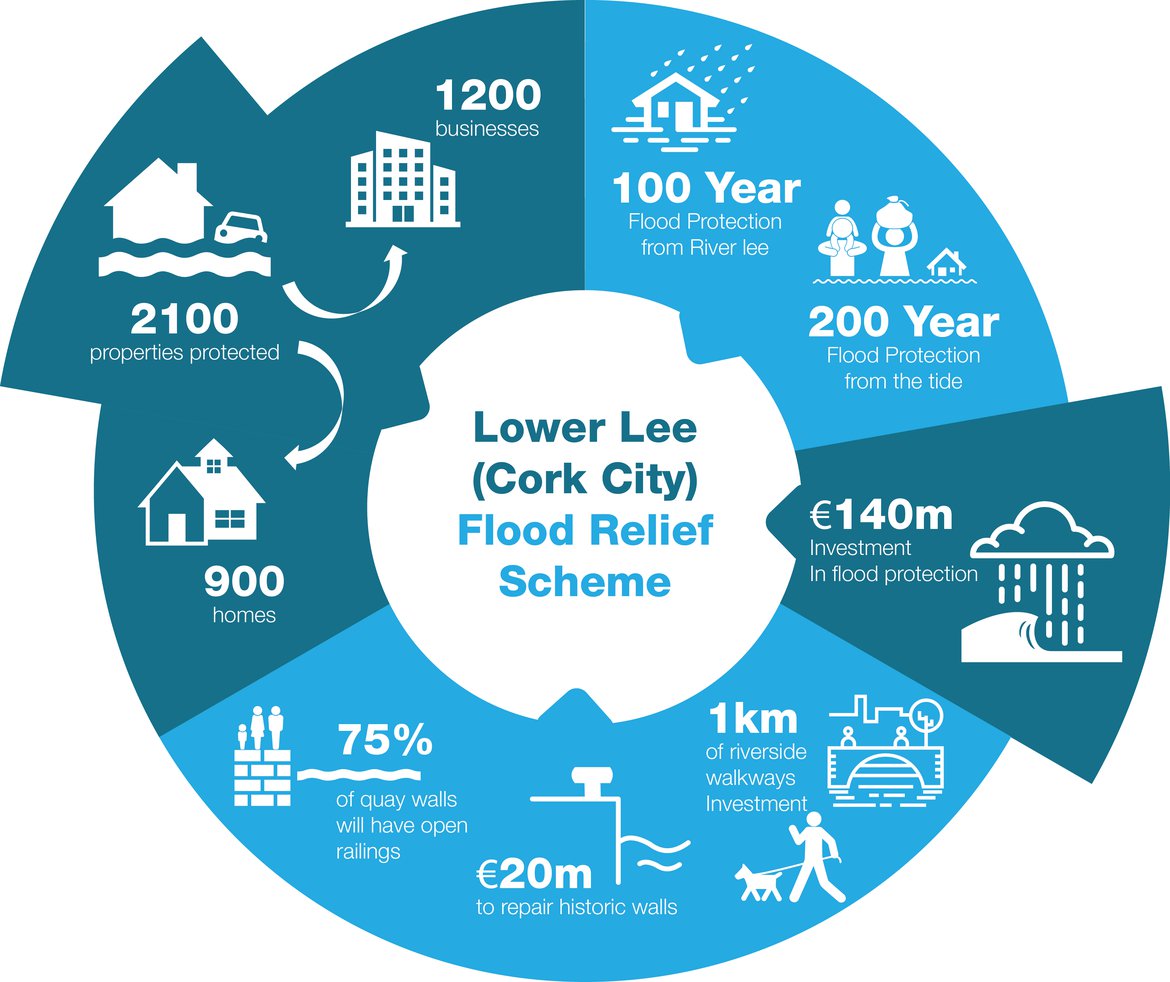 Latest News
Lower Lee (Cork City) Flood Relief Scheme - Animation more
Lower Lee Flood Relief Scheme Brochure more
Statement on Tidal Barrier Option issued by LLFRS more
OPW presentation to Cork City Council Members more
OPW Publishes Report on Public Consultation on Cork City Flood Relief Scheme more
OPW presentation to Cork City Council members more
OPW presentation to Joint Oireachtas Committee on Culture, Heritage and Gaelteacht more
OPW presentation to Lord Mayor more
OPW presentation to Cork Chamber and Cork Business Association more
OPW extends deadline for submissions to Lower Lee Flood Relief Scheme more
OPW response to recent press coverage more