Dundalk & Ardee Flood Relief Scheme (FRS)
Virtual Public Consultation Event
We want to consider all viewpoints in relation to the scheme, and this is your opportunity to take part at an early stage. Any time spent communicating your views is greatly appreciated.
Further information and materials are available at this LINK.
Our live event occured on 6th October 2021 at 6.30pm.  To view a recording of this event plese click the video below.
---
Background Information
The Flood Relief Scheme involves two scheme areas:
Dundalk and Blackrock
Ardee
Dundalk (Dún Dealgan) is the county town of County Louth, Ireland. It is the administrative capital of the county and is close to the border with Northern Ireland, forming part of Ireland's Ancient East. Dundalk lies on the Castletown River, which flows into Dundalk Bay on the East Coast of Ireland.  The Castletown River Estuary and Dundalk Bay is a Special Protection Area (SPA), as well as being a Special Area of Conservation (SAC). The bay is also a Proposed Natural Heritage Area, further reinforcing the environmental value and sensitivity of the area.  Blackrock is a seaside village to the south of Dundalk with a population of approximately 4,000.  Blackrock draws visitors to its' beach and promenade, with views looking out over Dundalk Bay and towards the Cooley Mountains.
Ardee lies on the banks of the River Dee. Ardee is equidistant between the towns of Dundalk and Drogheda and has undergone continuous development over several decades.  The flood relief scheme for Ardee is a sister project being run in tandem with Dundalk/Blackrock to provide benefits to all of the local communities as soon as possible.
As part of the Government's National Development Plan 2018-2027, almost €1 billion has been committed to the investment into flood relief measures across the country.  Following on from this commitment, a steering group was established between the OPW and Louth County Council to progress a flood relief scheme to alleviate the risk of flooding for communities of Dundalk/Blackrock & Ardee. In Summer 2020, a Joint Venture (JV) between Binnies (B) and Nicholas O'Dwyer (NOD) was appointed as Engineering Consultants, to develop a scheme that is socially, environmentally, economically, and technically acceptable.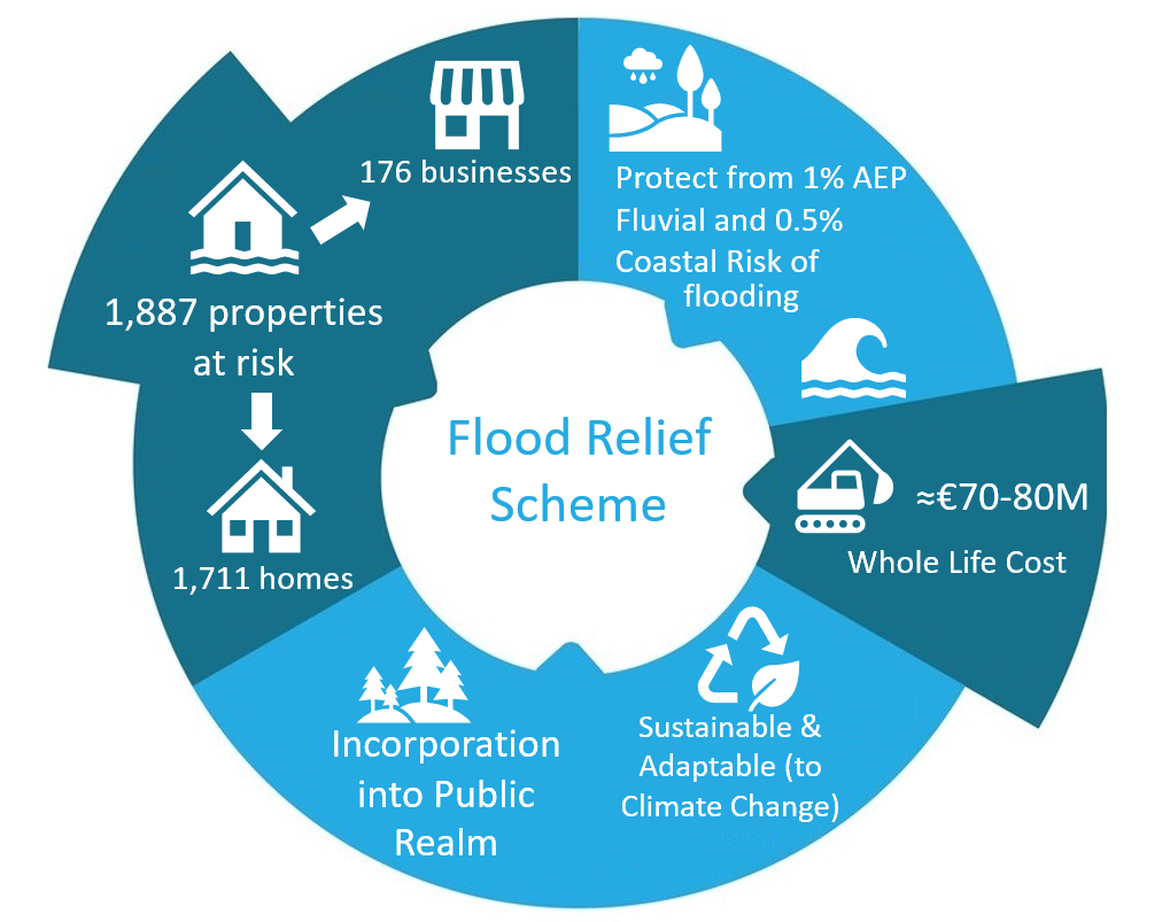 Dundalk and Blackrock have suffered many flooding events, most notably in 2008, 2014, 2016 & 2020, whilst they are furthermore at significant risk of coastal flooding. With the future flood risk increased by climate  change  and  the  areas  natural low-lying topography, calls  for  a  sensitive flood relief scheme  to  be constructed  to reduce the  risk from future flood events were set  out  in the Catchment Flood  Risk  and Management Study (CFRAM) published by the Office of Public Works (OPW) in 2018.The development of any proposals will consider the impact on any neighbouring communities in line with requirements of the EU Floods Directive.
To address flooding issues nationally, the Office of Public Works (OPW) commissioned and completed Catchment and Flood Risk Management (CFRAM) studies covering the entire country. The North Western – Neagh Bann CFRAM Study, included Dundalk, Blackrock & Ardee, and was completed with support from various County Councils, including Louth County Council. An output of the study identified flood risk areas, including Dundalk/Blackrock & Ardee, and the associated impacts of flooding. A link to these reports can be found here. The plan also sets out the measures and policies to be pursued, in order to achieve the most cost effective and sustainable management of flood risk.
Following the launch of the flood relief programme by the OPW in 2018, Binnies / Nicholas O'Dwyer Joint Venture (B/NOD JV) were appointed, by tender competition off the OPW's framework, in August 2020 to complete a detailed project level engineering assessment for Dundalk/Blackrock and Ardee. The assessment will involve identification of appropriate flood risk alleviation measures and preparation of detailed design drawings and documents. B/NOD will carry out the appropriate Environmental Assessments including the Environmental Impact Assessment Report (EIAR) and the Natura Impact Statement (NIS), where required under the relevant legislation.
The works are likely to involve improvement of channel conveyance (maintenance & culvert upgrade), potential storage ponds, and hard defences (walls & embankments).  All works will be carried out in accordance with the project programme and the public will be fully informed in advance of any potential disruption.
---
Greenway
Where possible, the scheme intends to capitalise upon the potential flood defences from Blackrock to Bellurgan as a potential corridor for a section of the Great Eastern Greenway from Belfast to Dublin. This presents an opportunity to provide a significant piece of infrastructure which has the potential for huge recreational, tourism and financial benefits for the area.
---
Website Updates & Mailing List
This website will be updated on a regular basis as the progress progresses and activities are undertaken on site. The public are encouraged to review this website regularly for the latest updates.
If you would like to receive project updates and the newsletters as they are released then please follow this link to take you to a Microsoft Form where you can input your email address to join the mailing list. You can unsubscribe at any time by emailing the project team at: DundalkArdeeFRS@binnies.com.
Latest News
B/NOD are currently scoping additional surveys such as environmental surveys, topographical surveys and site investigation works to ensure there is adequate data to develop the scheme design. Once scoping is complete, the appointment of specialist survey contractors will be made to complete the task.
Environmental Assessment (News page)
Work is continuing on the scoping of environmental surveys, with a priority given to winter surveys. In parallel an environmental impact scoping assessment, environmental constraints survey and Invasive Species Management Plan are being progressed.
Coastal & River Modelling (News page)
Existing models are currently being reviewed, assessed and checked against previous flood events to understand how the area reacts to weather events. We will use the information collected through the surveys and data collection to update the models and inform the schemes design.
A project newsletter is now available to view from the 'news' page of the website. The newsletter provides information on recent activities and other relevant information. The newsletter has been issued out to interested parties - if you want to be added to mailing list then please see the 'Website Updates & Mailing List' heading at the bottom of the home page.
Public Information Day (News page)
A first, opening Public Information Day shall be held where it is proposed to consult on the emerging scheme options. A second Public Information Day will be held once a preferred scheme has been identified and agreed with the steering group.
Dates for these Public Information Days will be advised in due course.