Portarlington Flood Relief Scheme (FRS)
Introductory Presentation 
We want to consider all viewpoints in relation to the scheme, and this is your opportunity to take part at an early stage. Any time spent communicating your views is greatly appreciated.
Further information and materials are available at this LINK.
---
Project Updates
---
Background Information
Portarlington is a borough, market and post-town on the border of County Laois and County Offaly, Ireland. Portarlington is split by the River Barrow, which is a Special Area of Conservation (SAC), including conservation efforts for the restoration of favourable conditions for Salmon, and being a catchment with previous records of Margaritifera (an endangered species of freshwater mussel).
As part of the Government's National Development Plan 2018-2027, almost €1 billion has been committed to the investment into flood relief measures across the country. Following on from this commitment, a steering group was established between the OPW and Laois County Council to progress a flood relief scheme to alleviate the risk of flooding for the community of Portarlington. In Summer 2020, a Joint Venture (JV) between Binnies (B) and Nicholas O'Dywer (NOD) were appointed as Consultants, to develop a scheme that is socially, environmentally, economically and technically acceptable.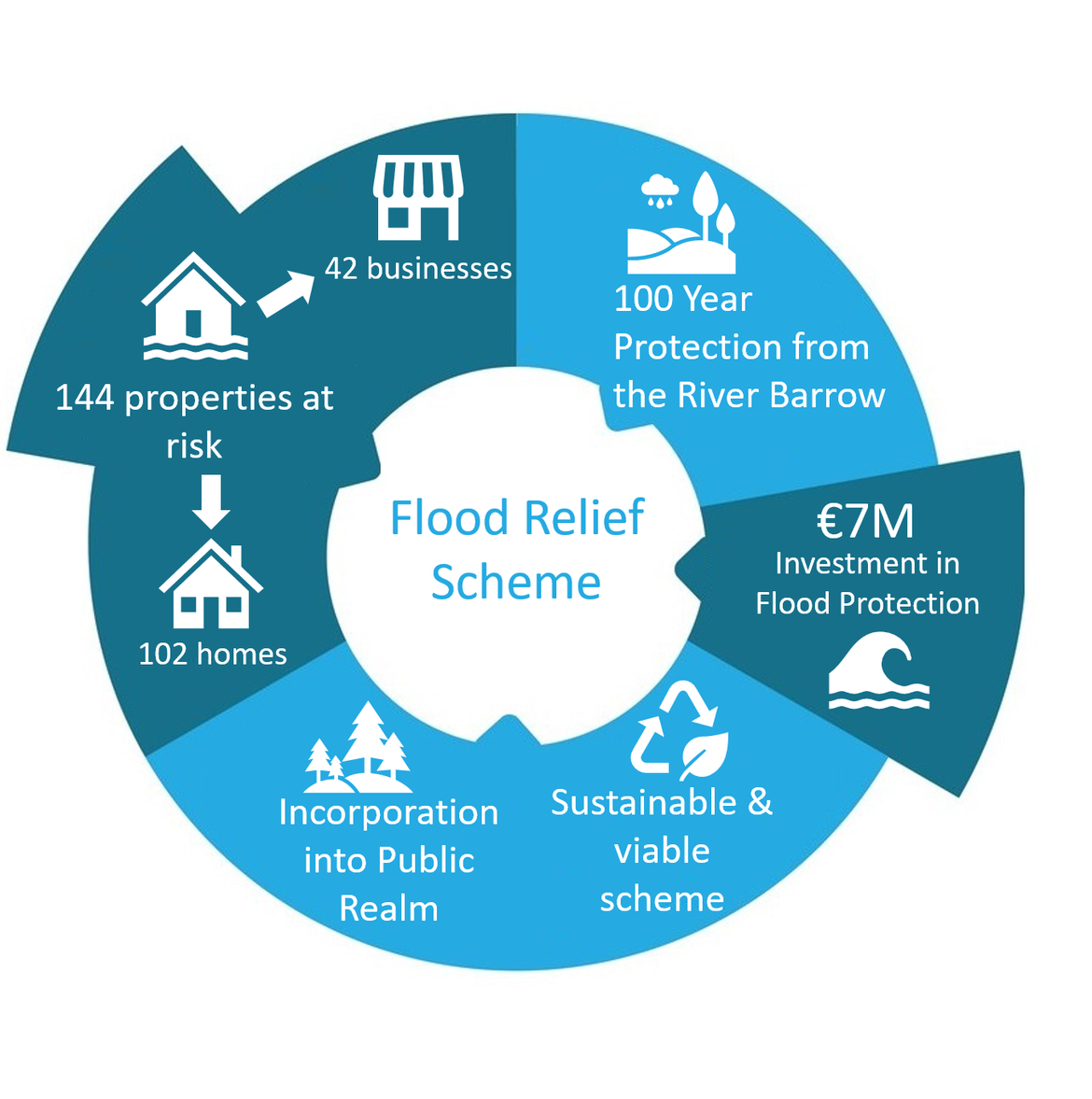 Portarlington has had a history of serious flooding with major events occurring as recently as Jan-2020, with others in Nov-2017 and 2008. Development of proposals will consider the impact on neighbouring communities in line with requirements of the EU Floods Directive.
To address flooding issues nationally, the Office of Public Works (OPW) commissioned and completed Catchment and Flood Risk Management (CFRAM) studies covering the entire country.  The River Basin (14) Barrow CFRAM Study was completed with support from various County Councils, including Offaly and Laois County Councils.  An output of the study identified flood risk areas, including Portarlington and Mountmellick, and the associated impacts of flooding. The plan also set out the measures and policies to be pursued in order to achieve the most cost effective and sustainable management of flood risk.
Following the launch of the CFRAM Study findings, B/NOD were appointed in August 2020 to complete a detailed project level engineering assessment for Portarlington. The assessment will involve identification of appropriate flood risk alleviation measures and preparation of detailed design drawings and documents. B/NOD (JV) will carry out the appropriate Environmental Assessments including the Environmental Impact Assessment Report (EIAR) and the Natura Impact Statement (NIS), where required under the relevant legislation.
---
Mailing List
If you would like to receive project updates and the newsletters as they are released then please follow this link to take you to a Microsoft Form where you can input your email address to join the mailing list. You can unsubscribe at any time by emailing the project team at: PortarlingtonFRS@binnies.com.
Summary
Public Consultation Day 2  - CLOSED
Updates / November 24, 2022
This second Public Consultation Day is held on 24th November to present the emerging options developed to date and to gather your opinions and concerns to inform the selection of a preferred scheme. A questionnaire will be available for you on the day and if you cannot join us a copy of the questionnaire will be available on this website as well as supporting maps and information. Closing date for consultations and questionnaire submissions is 8th December 2022.
Surveys 
Updates / November, 2022
Environmental and ecological surveys have been completed. Scoping for Geotechnical Investigation (GI) survey is also progressing.
Surveys have been completed to progress the Scheme. We are in contact with utility providers to locate services and help the option development process.
Updates / July 12, 2022
CCTV surveys are ongoing. Input from Topographical and Geotechnical Investigation (GI) Surveys will be also required at a later stage of the Project.
Environmental Assessment 
Updates / July 12, 2022
Detailed environmental and ecological surveys are scheduled to complete in early Autumn.
Public Consultation Day 1 - Winter 2021
Updates / July 12, 2022
The first public consultation event was successfully undertaken despite the Covid-19 constraints. 
Newsletters 
Project newsletters are now available via the News section. The most recent newsletter can also be found below:
The newsletters provide information on recent activities and other relevant information. If you would be interested to be added to the mailing list, please refer to Website Updates & Mailing List heading at the bottom of the home page.