Limerick City & Environs Flood Relief Scheme
Limerick City has been a victim of severe flooding many times in the past. Previous flooding events in the Limerick city area have caused millions of euros worth of damage. Flooding in Limerick is caused by both fluvial (stream/river) and coastal sources. Fluvial flooding occurs when riverbanks overflow their banks and the existing drainage systems lack the capacity to deal with the stormwater overflow. Coastal flooding is also a contributing factor; strong winds coupled with high tides have had a major impact on flooding in the area.
Limerick City & County Council as the Lead Authority, in partnership with the Office of Public Works (OPW) are now advancing with the Limerick City & Environs Flood Relief Scheme. The OPW has recommended the development of a Flood Relief Scheme for Limerick City & Environs as a result of the work completed in the Shannon Catchment Flood Risk Assessment and Management (CFRAM) Study.
This Flood Relief Scheme is part of the €1bn National Fund announced by the Government for Flood Relief Schemes throughout the Country in May 2018.
Limerick City & County Council commissioned RPS in May 2021, to develop and implement a Flood Relief Scheme for Limerick City & Environs. The objective of the scheme is to alleviate the risk of flooding to the Community of Limerick City and environs by providing a scheme that is technically, socially, environmentally and economically acceptable.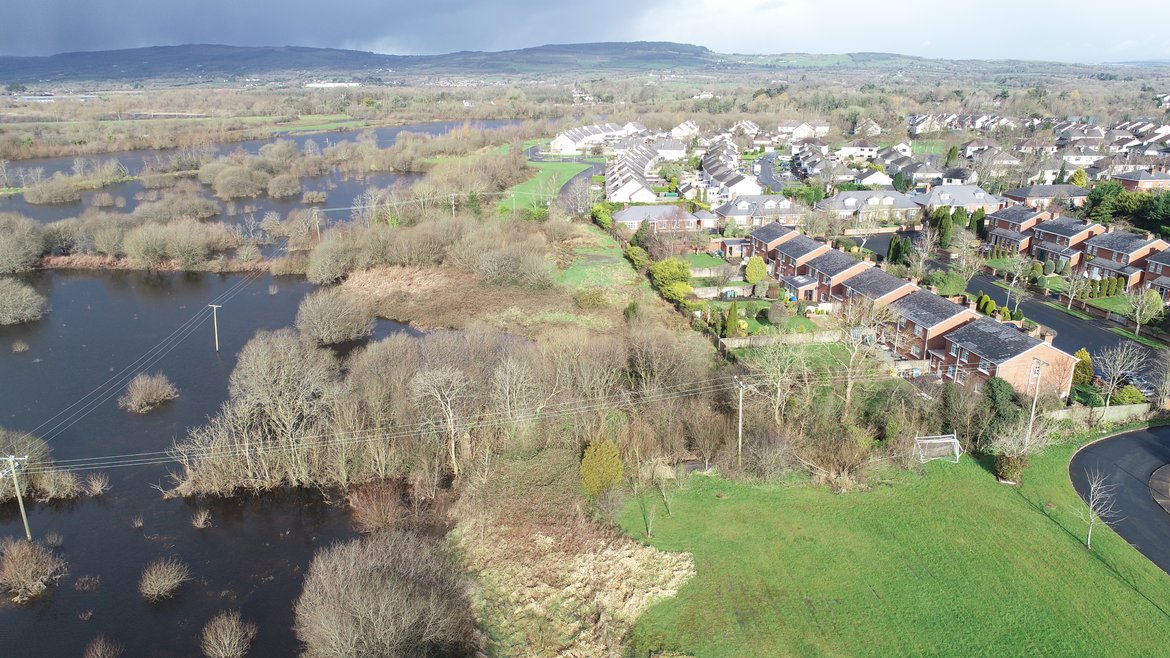 Flooding in Corbally (02/03/2020)
The development of the Public Realm is a major component of the Flood Relief Scheme. Where feasible, greenways and pedestrian/cycle routes will be developed in conjunction with the flood defence and where appropriate, nature-based solutions and green infrastructure will be incorporated into the scheme.
As part of the Scheme development the design team will explore opportunities for "Quick Wins" and the early advancement of flood defences within the Public Realm and the Annacotty & Corbally Areas.
Limerick's World-class Waterfront as part of the Public Realm development has been approved for support from the Urban Regeneration and Development Fund (URDF) https://www.gov.ie/en/press-release/b0a35-revitalising-the-mid-west-obrien-announces-130-million-for-regeneration-projects/
This website has been set up to provide information to members of the public and to keep you informed of the project's progress.
Latest News
Latest News
See the latest news on the project here
Project Newsletter
The latest Newsletter is available here
Public Consultation Event #1: 2021
A virtual public consulation event is open from the 18th of November 2021 please see the attached notice . Please read the Privacy Statement before entering the Virtual Consultation Room.