Public and Stakeholder Engagement
In accordance with the Arterial Drainage Acts 1945 and 1995 as amended, the Office of Public Works engaged extensively with the public on the proposed Lower Lee (Cork City) Flood Relief Scheme.
Representatives from the scheme's engineering design team, environmental consultants and the Office of Public Works met with and explained the scheme's proposals to members of the public in City Hall, Cork in December and January 2017.
Both before and after the exhibition of the proposed scheme there has been a variety of meetings between members of the project team and public representatives, community groups, and individual property owners.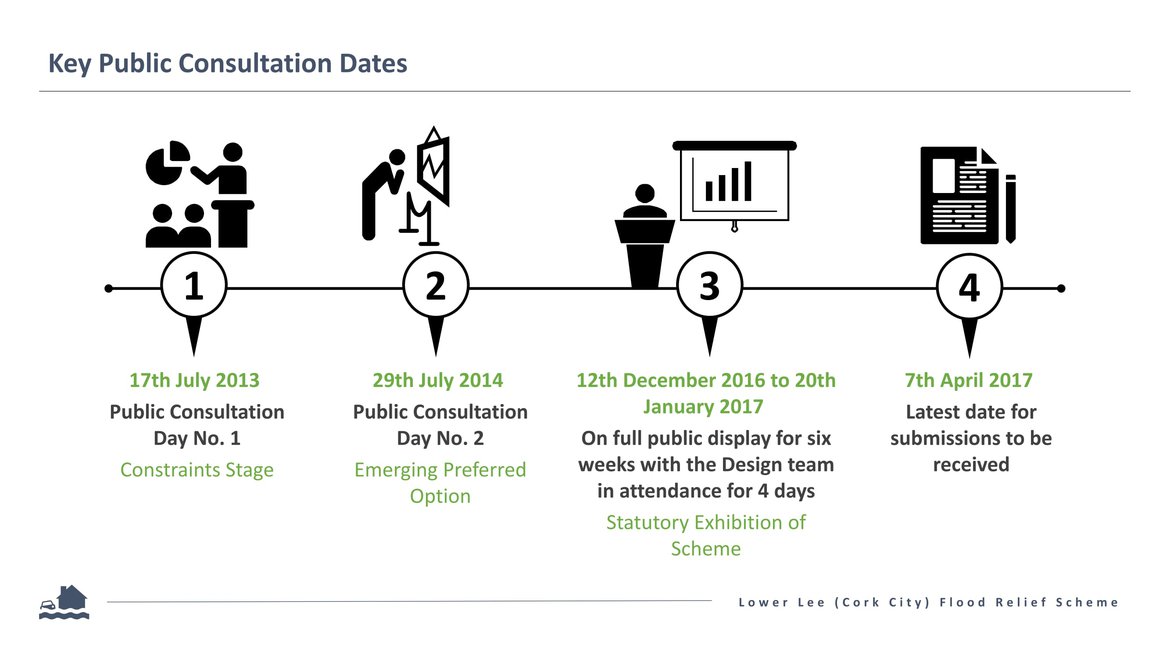 17th July 2013

 

Public Consultation Day No. 1

Constraints Stage

 

29th July 2014

 

Public Consultation Day No. 2

Emerging Preferred Option

 

12th December 2016

to 20th January 2017

 

 

On full public display for six weeks with the Design team in attendance for 4 days

 

 

Statutory Exhibition of Scheme

 

 

7th April 2017

 

 

Latest date for submissions to be received

 

 

 

 
Also a copy of the scheme was available for inspection from 12th December 2016 to 20th January 2017 at the following locations in addition to the Project Website (www.lowerleefrs.ie):
The Foyer, City Hall, Anglesea Street, Cork
The Foyer, County Hall, Carrigrohane Road, Cork
Public Library, Ballincollig, Co Cork
Central Library, Grand Parade, Cork
Submissions could be made on the proposed scheme up to 7th April 2017. Over 1,100 submissions were made which will be responded to once a Public Exhibition Report is completed and made available publicly before the end of 2017.
Downloads
Drawings and Photomontages
Other Exhibition Documents